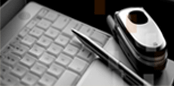 About our Firm
Background
For years our firm has been providing quality, personalized financial guidance to local individuals and businesses. Our expertise ranges from basic tax management and accounting services to more in-depth services such as audits, financial statements, and financial planning.

Our Mission
Our mission is to help clients maintain financial viability in the present while taking a proactive approach to achieve future goals. This requires open communication to reach an understanding of our clients' needs, thorough research, and sound analysis. Our firm is dedicated to meeting these goals with high standards of excellence and professionalism.

Our Main Focus

RS Associates is a local firm of Certified Public Accountants offering auditing, management consulting and special services to its clients which consists primarily of commercial, governmental and nonprofit organizations. The firm is the result of a direct effort of professionals who consolidated their experience and resources in order to provide a broader range of high quality services to its clients. Members of the firm have accumulated many years of experience in public accounting; primarily with international certified public accounting firms while employed in high supervisory positions.
Individually, the principal and management staffs are recognized in their respective areas for leadership roles which they play in promoting the high ideals of the accounting profession and for producing the highest quality services for the benefit of their clients.
The firm encourages its members to participate in community activities as well as trade or industry associations to round out our involvement in our profession and community. Our involvement in these activities assures that we are up to date on relevant information that will assist us in counseling and serving our clients in their unique and particular problems.

Our Team
Ragini Singh, CPA
As principal of RS Associates, Ragini Singh, CPA is dedicated to working closely with non-profit and government organizations, business owners, and individuals in meeting their requirements.
While working for a public accounting firm in Oakland, California, Ragini was awarded her Certified Public Accountant license in 2004. She has rich audit and accounting experience in Education, Community Health Clinic, Housing Authority, Governmental and Non-profit organizations.
Ragini has fifteen years of accounting and auditing experience to guide businesses and individuals toward success. She has held a variety of corporate accounting positions in industries such as manufacturing, and finance.
A resident of San Francisco Bay Area, Ragini is committed to the growth of the local accounting and business community. Ragini is a member of the California Society of Certified Public Accountants (CalCPA) and the San Ramon Chamber of Commerce.
Ragini graduated from Bombay (Mumbai) University, India in 1994 with a Bachelor of Science in Accountancy. She holds a Chartered Accountancy (CA) degree from India and passed CISA (Certified Information Security Auditor) examination in 2005. In her spare time Ragini enjoys hiking, and watching movies.
Vimal Singh, MBA, CTP
Vimal has 15 years of experience in Corporate Finance, Treasury, Cash Management, Risk Management and Payments in the corporate environment and as a consultant to businesses.
Vimal holds an MBA in Finance and is a Certified Treasury Professional (CTP) since 2001. He holds membership of Association of Finance Professionals (AFP).